Introduction
In this demo, we will showcase QikEasy's Virtual Wireless Sensor feature by using it to create a LEGO smart switch. As with any smart switch, it will be voice controllable and we have chosen to use Google Home to complete this build as we have shown the integration with Amazon Alexa in the Alexa Control page, if you haven't seen it before, you can visit it here. We will also be needing a number of free online services to complete this task. Let's begin by taking a look at the command flow as well as the hardware and software components required:
Google Home for receiving the voice command.
IFTTT (If This Part) as the triggering point from Google.
IFTTT (Than This Part) for starting a online web call.
Google Script for managing the web call and to send two time delayed web calls to the home router.
Home router for port forwarding the web call to the QikEasy Adapter within the home netowrk.
QikEasy Adapter for receiving the online command and translating the command for the LEGO LPF2 Hub.
LEGO Build to press the ON or OFF button on the wall switch.
We will also be showing how to use the  Android MacroDroid App to control the LEGO switch via local network. Let's get started.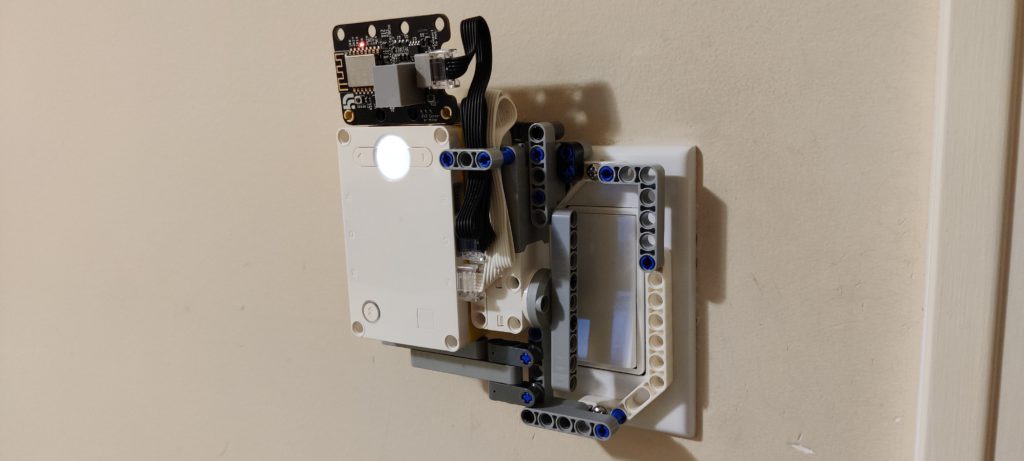 Architectural Overview
Here's the flow chart to show the relevant components and how data flows between them. In the sections below, we will be describing how to build up the functioning Lego Switch Robot step by step from the bottom up.